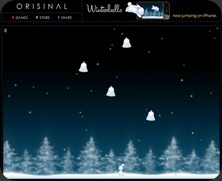 Ok, lemme just start this one with a disclaimer – it's a little gay, but just like riding a scooter it's a lot of fun until your friends find out.
I'm not too sure what the game's actually called, so let's just go with the "Gay Rabbit Game". The purpose of the Gay Rabbit Game (GRG) is simply to jump and move your mouse around to touch as many bells as possible.
The more bells you touch, the higher you jump and the more points you score. Simple. Easy breezy. And great for avoiding actual work.
So go ahead and hit this link http://www.ferryhalim.com/orisinal/g3/bells.htm and give it a try. I can almost guarantee you you'll get instantly hooked.
Definitely play this one with a mouse though, it's frustrating as hell with a touchpad.
TOTAL TIME WASTED: 2.5 Hours
TOTAL ENJOYMENT LEVEL: 72%
FINAL VERDICT: What starts out as "Lemme just play it one more time, I'm pretty sure I can top that last score…" will definitely end up as "Holy what the fuck! It's Tuesday already?!"
What do you guys think of the Gay Rabbit Game? As always if you have suggestions for other great work time wasters, feel free to send them to tellthetiger@gmail.com
-ST