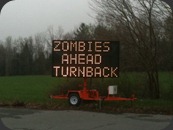 You could do a pretty interesting study on why so many people in our generation have a total fixation on zombies.
For me, there's just something about the entire system grinding to a complete halt that kinda appeals to me. No more mundane routines, no more work pressures, none of that fabricated bullshit would matter anymore.
Of course, you'd live every moment in blood-curdling fear and probably have to do some pretty unspeakable shit to stay alive, but as long as you'd done your homework, watched every zombie movie known to man and played games like Zombie Highway, you'd definitely survive at least a week or two.