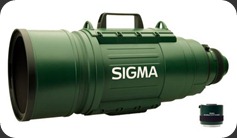 Amazon user reviews are the SHIZ! I mean, it doesn't happen all the time, but once in awhile the people who trawl Amazon find a product so ridiculous it's practically BEGGING for people to take the piss.
Enter the $26 000 35-pound giant green Sigma 200-500mm camera lens (thanks Tim!). A lens so huge it can instantly turn you into a giant douche the second you fit it onto your camera.
More hilarious than the lens itself are the reviews "users" wrote on Amazon, some of which I've included below to brighten up your Thursday, KAPOW! (Shamelessly stolen from PetaPixel).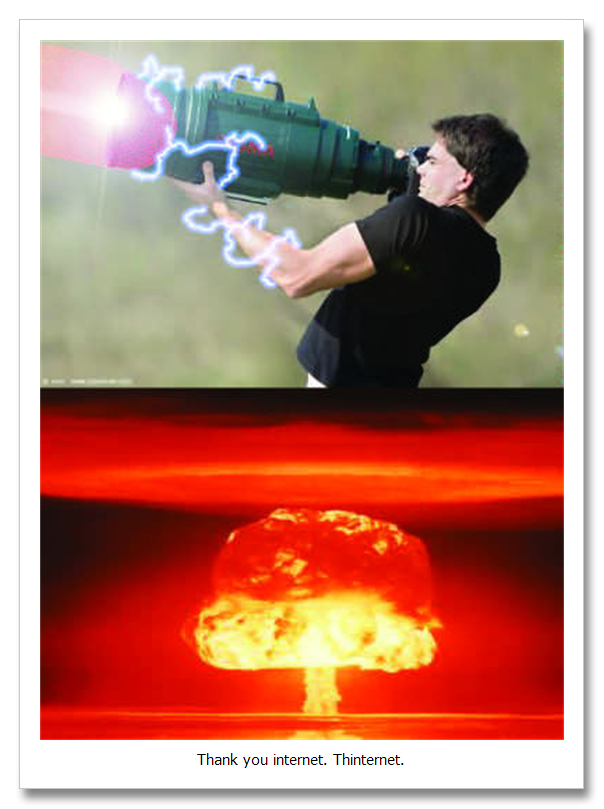 Almost better than my $150 55-500mm Point and Shoot!

Good deal from Amazon. I was actually just surfing around looking for a replacement point and shoot camera when I happily stumbled upon the sigma zoom lens. When I saw that it was $38,000 I knew I had to have it. But then I saw that it was on sale for only $24,000. Oh Joy. I ordered two of them. For only 20 grand more, I now have two 100 pound lenses. They fit nicely on my old $50 Pentax SLR.

I tried this lens while shooting birds at Yosemite but the park ranger called the SWAT team on me because he thought I was trying to bazooka the wildlife. End of trip.

I needed a crowd photo for my art director but four cop cars drew down on me because they thought I was trying to fire a missile at pedestrians. End of shooting session.

I finally was able to use this lens to break down the front door to my home because I locked myself out the other day. It broke the door down nicely but unfortunately, the lens shattered in the process. It's a good thing that I purchased two of these.

In short, if you are looking to pay over 100 times more for a telephoto zoom lens instead of a point and shoot zoom camera for a little under $200, this is absolutely a steal at $24K because you're saving $10K on the purchase. Oh, did I mention it's free shipping on this item?

The downside is that I can't keep this lens in the house because it scares my children and pets. But so be it, I love this lens
The "Big Bang" Looks Beautiful From Here

I purchased this lens with the intent to look back in space-time and see the Big Bang unfold first hand. I must say it was a little difficult to find the correct line of visibility within the Hubble Deep Field, but after a few precision adjustments, I was finally looking at the origins of our universe. Seriously Awesome!

I don't want to spoil it for you, but you CAN make out God quite nicely while he's assembling the fundamental forces of physics. Teaser: He's NOT a white dude with a beard!

 
Pro fotog

This is a great lens. Have had it for 2 weeks now. Mostly use it in macro mode in my search for the Higgs boson. But when not using for subatomic particle work, I use for weddings. One client was getting married a few hundred miles away. Of course I didn't need to fly in for the wedding…thank you Sigma. Yes, this lens has its drawbacks, we all know about them – yes you are actually focusing on things that potentially happened long ago – get over it. With low CA and a flat field of view – I can live with the drawbacks.

One note: my copy FF a little when inside the earth-moon radius, and I don't have AF micro adjust on my rebel xt. Sent in to Sigma for adjustment and came back fine. Even with all the trouble, still great upgrade from my kit lens.
As you were
-ST