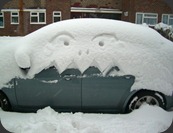 I am completely snowed at the moment guys, so I'm not able to write the usual, thought compelling, life-changing, gag-inducing material that you've all grown to know and love, but what can you do?
I'm working right through to 10.30 / 11pm every night this week at all kinds of whisky-related events so yeah, forgive me if things are a little slow on the site.
We just need to band together during times like these and remember that blogging isn't my day job and the bills don't pay themselves.
To illustrate my point, here's a picture of Jesus skateboarding like a total badass:
We cool?
Cool.
-ST