I'm lucky enough to have attended at least 7 or 8 whisky tastings over the past four years and have completed two training courses to be a whisky presenter because I really, really love the stuff.
Being part Irish, a good deal of my DNA is actually comprised of whiskey, which is why I'll drink you under the table without even breaking a sweat, or in the case of my good buddy Mr D, down a flight of stairs (long story).
So when asked by the good folks over at Oude Meester if I'd like to attend a brandy tasting I was more than a little sceptical.
"Taste brandy? Who tastes brandy?! You throw some coke in that bad boy, knock back a few doubles and go find the nearest oke to moer, end of story right?"
Wrong.
What I soon realised when I arrived at Blake's for the Oude Meester tasting last week was that my ignorance when it comes to brandy, and the Oude Meester brand itself, is pretty shocking.
Prior to the Jamie Foxx ads for Oude Meester that have been playing on TV, I hadn't been exposed to the brand in any way, shape or form, so naturally my Cro-Magnon brain put two and two together and was like "Jamie Foxx! American advert! Oude Meester must be an international brand!"
That was the first thing I learned shortly after arriving. Oude Meester is as South African as boerewors and Bles Bridges.
The second thing I learned is that the new ad with Jamie Foxx isn't shot in America, it's shot right here in Cape Town.
To make it look more American, they flipped all the street shots so that it looks like they're driving on the right-hand side of the road. But that hotdog vendor stand is in town somewhere, as is the boxing gym, and the recording studio is the SABC studio in Seapoint.
We got to watch all the behind-the-scenes footage from when they shot the ad and were given some insights as to why Jamie Foxx was chosen as the new face of the brand.
Simply puy, Foxx has street cred with a younger target audience and with an older, more sophisticated crowd and like Benjamin Franklin, Jamie Foxx is a man of many talents and was actually going to pursue a career in music before he tried his hand at stand-up comedy and acting.
Then we got to the actual tasting itself and tasted all four brandies in the Oude Meester range – the VSOB, Demant, Oude Meester 12 Year Old Reserve and Oude Meester Souverein 18 Year Old.
Here's what my soupy brain remembered:
South Africa has extremely strict guidelines when it comes to brandy production, making ours some of the finest brandy in the world. By law, it has to mature for a minimum of 3 years in a barrel (French Oak is most commonly used) so the quality of our brandy is exceptionally high
What we call brandy, the rest of the world calls cognac. This blew my mind. How have I lived for 28 years without knowing that?!
As a general rule, brandy is a lot softer on the palate than whisky as it doesn't have the same amount of spice or peat in it, but because they toast the inside of the barrels, there is a hint of smoke in brandies like the Oude Meeste 12 Year Old Special Reserve that lends a lovely scotch-like character to the spirit
The Oude Meester Demant is a seriously underrated brandy. It's the newest in the Oude Meester range and has some wonderful apricot / fresh-cut grass flavour notes, complimented by subtle hints of tobacco and chocolate that makes it great to drink on its own or as a mixer (more on that later)
18 year old brandy is the shiz! Dark chocolate notes abound in the Oude Meester Souverein, followed by fruitier notes of apple / pear and ending with a velvety almond / ginger finish
The tasting was followed by one of the best selections of food I've ever seen at a tasting, the highlight of which were the honey glazed beef ribs. Even writing that last sentence is making my mouth water.
The things I did to those delicious hunks of perfectly-cooked meat are not fit to be published on a site that children might accidentally stumble on, so let's just say I loved them like no man has ever loved ribs before and leave it at that.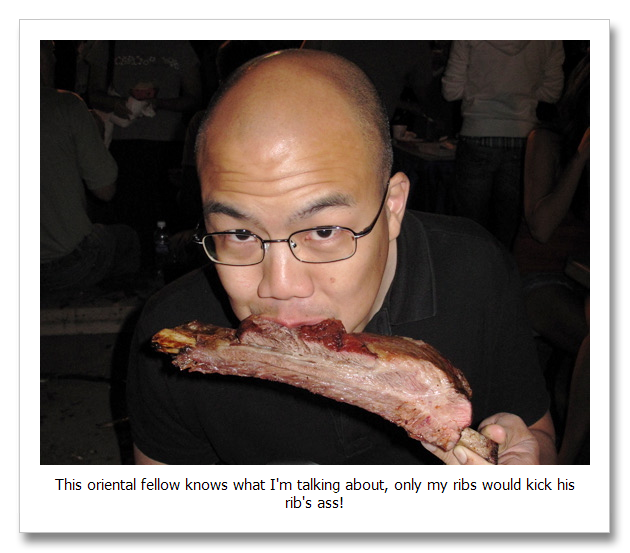 It was a great evening and while wizzo will always be my weapon of choice, if I'm ever in the mood to change it up a little, brandy will definitely be my go-to drink.
Oh, and if you're looking for a badass cocktail this summer, buy yourself a bottle of Oude Meester Demant (retails for roughly R140 if I'm not mistaken), mix it with ginger ale, add a dash of bitters, a slice of lemon and some ice and tell me that's not a great cocktail.
It's called a "Franklin" and like the man himself, it's right at home on a lilo in the pool on a scorching summer's day, surrounded by flippin' hot BELTERS
-ST