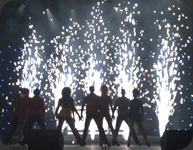 You get jaded pretty quickly as a blogger – PR companies contact you to invite you to one launch event after the next, all of them promising events that will CHANGE YOUR LIFE FOREVER!
Fast forward to when you get there and you find a bunch of completely disinterested journos scratching their bums while they wait for the powerpoint presentation they know is going to follow with a look of mortal terror in their eyes.
You bolt as soon as it's over and vow never, EVER again. Then you get the other kind of launch event, the kind that is awesome from start to finish like the Nokia Lumia launch I hit up last night.
Both the product and the event itself were noteworthy, but let me start with the product because gauging both from the launch and the buzz online at the moment,  Nokia's new Lumia phones could very well be the game-changers Nokia needs to regain market share in the smartphone arena.
The Lumia 800 and 710 are Nokia's first Windows Phones, both running Windows Phone 7.5 which, from the demo I was given at the event, looked like a MASSIVE improvement on previous versions of Windows I've used on phones like the HTC Touch 2 though, granted, that was a LONG time ago.
This time around, the folks at Microsoft have spent a LOT of time and effort thinking up ways to seamlessly merge all your accounts (Google, Twitter, Facebook, Windows Live, LinkedIn, etc.) so that communicating becomes as easy as selecting a person and choosing how you want to communicate with him / her.
Instead of a "call register" you can literally bring up your entire communication history with a person which lists, in chronological order, all the conversations you've had with that person whether they're via email, sms, Facebook chat or over the phone.
The best part of it is because your "People" list is cloud-based, if you ever loose your phone, you will be able to pull all your contacts onto your new phone by simply logging into your Windows Live account – BADA BANG!
You can also log in to your X-Box Live account from your phone and communicate with your little gaming buddies whenever the fancy strikes you.
In case you're interested, here are the specs for both phones so you can see what they're packing under the hood:
Nokia Lumia 800: Stunningly social
Unibody design with vivid colors: cyan, magenta, black
Social networking provided by Windows Phone release 7.5
Internet Explorer 9 (hmmm… hope it's better than the PC version…)
3.7" AMOLED, ClearBlack display with WVGA 800×480 pixels, 16 million colours and 2.5D curved glass
Leading imaging capabilities with Carl Zeiss optics, above the lock capture, 8MP camera with autofocus and touch focus capability, dual LED flash, high definition 720p video recording with 30FPS and one touch image sharing
1.4GHz Qualcomm Snapdragon processor, 512MB program memory, 16GB internal user memory, and up to 9 hours of 3G talktime
Nokia Lumia 710: Designed to be personal and affordable
Can be personalized with white or black body design, five vibrant exchangeable back covers (black, white, cyan, fuchsia and yellow) and thousands of apps
Social networking provided by Windows Phone release 7.5
Again, Internet Explorer 9
3.7" WVGA TFT, ClearBlack capacitive touch screen with pinch zoom, 800 x 480 pixels and 16 million colours
5 MP camera with auto focus, LED flash, high definition 720p video recording with 30FPS and one-touch image sharing
1.4GHz Qualcomm Snapdragon processor, 512MB program memory, 8GB internal user memory, and up to 7.6 hours of 3G talktime
And as for the event itself, it was like no launch I've ever seen.
In between speeches by the head honchos at Nokia, Microsoft and Vodacom, a group of dancers ripped up the stage, accompanied by shirtless okes pounding drums and this guy who twirled a steel-framed cube whilst dancing in and around it.
Shows like that I usually find pretty nauseating to sit through, but I really enjoyed this one, which ended with all these cannons blasting confetti like gigantic snowflakes for a good 5 minutes before the DJs took to the decks and got the party officially started.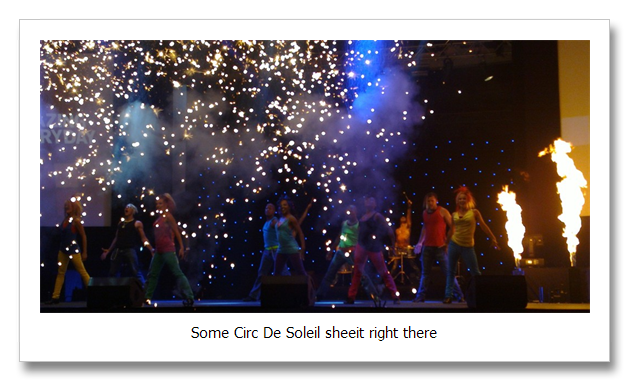 Which was when I left.
I would have loved to have stayed and partied on through the night, but as a general rule I don't party on school nights because my internal organs don't bounce back like they used to and going to work hungover is right up there with removing my teeth with pliers when it comes to my favourite experiences.
I am keen as a bean to get my hands on a Lumia 800 review unit so I can give you guys a better run-down of what it's like to actually use one of these phones, but if the hype is to be believed, it will CHANGE YOUR LIFE FOREVER!
Only time. Will tell

-ST