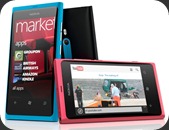 Friday will have been exactly two weeks since the Nokia Lumia 800 got dropped off for your Tiger pal to review so I've had some time to get to know my little cyan buddy more intimately.
Though I have encountered one or two frustrations over the last two weeks, they are far outweighed by the slickness of the Windows 7 OS and the great features the Lumia 800 is packing.
This week I'll be tackling Twitter and Facebook, having a look at some more of the nifty "live tiles", checking out the 8MP Carl Zeiss camera and reviewing the battery life.
The "Me" Live Tile
In my last review I spoke about the "People" live tile and how it pulls every person you've ever followed / emailed / saved as a contact and puts all their details in one convenient list.
Today we're checking out the "Me" tile, which gives you instant access to your profile, notifications and live feed.
From this tile you can quickly type a message and post it to Windows Live, Facebook and Twitter. It's the quickest way to post to your social networks I've ever encountered on a smartphone, but the downside is you can't post pics.
The "Me" tile also allows you to check in and set your chat status across all your social networks.
The sickest thing about this tile is the way it aggregates every mention you get across Twitter and Facebook and lists them all on the "Notifications" screen so you can see a summarised version of all the ous who've been chirping you by literally touching the "Me" tile and swiping right.
Another swipe to the right and you get the "What's New" screen – an expanded version of the "Notifications" screen that also includes all your tweets and Facebook posts.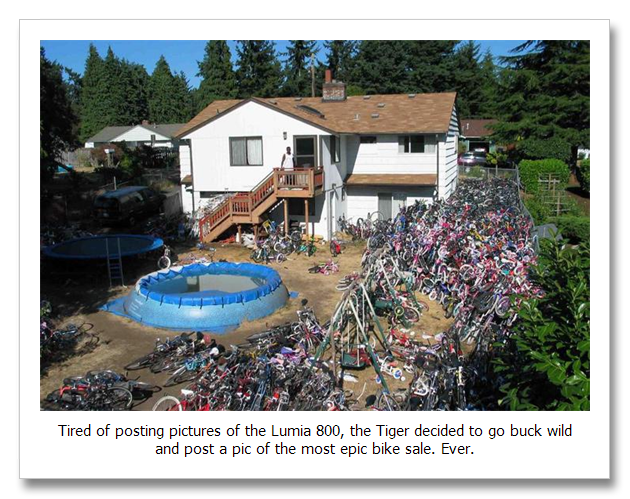 What's interesting to note is that you don't get your full feed from Twitter or Facebook unless you download a Twitter or FB app, which brings me neatly to…
Twitter and Facebook
If you want the full functionality of Twitter and FB on your Windows 7 phone, you have to hit the Windows Phone Marketplace and download them.
I downloaded the free Windows 7 apps for Facebook and Twitter, both of which give you full functionality across both platforms and, provided your 3G connection is solid, update almost instantly.
The experience of using both Twitter and Facebook on the new Windows 7 phones is the best by miles I've encountered on a Nokia phone. All operations and menu functions / navigation is kept lean and mean and makes for an enjoyable user experience.
Camera
The 8MP camera the Lumia 800 comes packing does the job, but I must say after using the Nokia N8 for the last two years, I've gotten used to the picture quality of the 12MP camera that bad boy comes with which, whilst making the phone very bulky, takes phenomenal pics.
But like I said, the 8MP camera does the job. Just be sure to keep dead still when taking pics or they have a tendency to blur quite badly. The camera also struggles a little in bad lighting conditions, but that's pretty standard for an 8MP cell phone camera.
The best part of the camera and taking pics is the "Pictures" live tile, which takes sharing and posting pics to a whole other level.
Once you've snapped a winning shot, it gets added to your "Camera Roll" where, by simply touching the pic and then touching the three dots in the bottom right corner, you can instantly share the pic via SMS, Hotmail, GMail, Facebook, Twitter and one of the coolest features the new Windows 7 phones have, the SKYDRIVE.
The Skydrive is like your own private portable hard drive that lives in space. I'll be putting it through it's paces in my next post, but the idea is that you can access your Skydrive from anywhere and save anything on it, including all your contacts.
What I also loved about the "Pictures" Live Tile on the Lumia 800 is the way that you can see your friends albums by going to "People" and adding your contacts.
The phone then pulls all their most recent photo galleries from Facebook and Twitter so you can instantly see what they've been doing with their bad selves. Too awesome.
Lastly, the Lumia 800 also aggregates all the pics your contacts post on Twitter and Facebook and puts all tweets / posts in one convenient list for you to quickly browse through. All of these pics can be tagged and saved to your phone so you can share them with your contacts or post to your social networks.
Battery Life
There has to be a catch somewhere right? Yeah, sadly there is.
With moderate use, you can squeeze 1 day out of the Lumia 800 before the battery bites the dust. This could be because I've installed Whatsapp on the phone, which is a notorious battery killer but still, I would have hoped to get a little more juice out of the phone, especially considering it's brand new.
Of course there is the option to run the phone on "Battery Saver" mode, which I haven't tried yet, but which will probably extend the battery life by half a day or so.
It's a small price to pay for a phone that basically combines and gives you quick and easy access to your entire online life though, so though it's a gripe it's nothing a little bit of forward planning / carrying a charger with you can't fix.
Just don't get hammered and leave the charger in a hotel room after your mate's wedding in Durban. FFFFFFFFF…
Tune in for my next instalment on the Lumia 800 where I'll be tackling web browsing, using the Skydrive and Microsoft Office amongst other things.
One last thing worth mentioning before I sign out though is the fact that nearly every time I've used the phone, the people around me have asked me what phone it is and watched me using it with interest.
There is a general buzz about Nokia's new Windows 7 phones that is palpable. Is this the phone that will give Nokia the much needed market share they've been fighting for in the smartphone arena?
Only time. Will tell
-ST