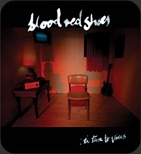 The Down Lizzo:
Blood Red Shoes' first two albums, 2008's Box Of Secrets and 2010's Fire Like This were packed with huge, aggressive punk-pop hooks that surged with energy and kicked like a mule.
Now this Brighton-based duo are branching out with In Time To Voices on which, singer/guitarist Laura-Mary Carter and drummer/vocalist Steve Ansell tone things down considerably.
It takes some getting used to, and fans of their acerbic brand of punk-pop will find the album lacking the punch-to-the-gut force of Box Of Secrets and Fire Like This, but to be perfectly frank another album like the first two would have buried this band as surely as Billy Talent's last effort buried them.
It's the golden rule of writing albums. Find a sound that works with the first one, hone that sound on the second and change it on the third. In Time To Voices follows this formula and in doing so, breathes new life into this band.
Killer Tracks:
The first single off In Time With Voices, "Cold" is definitely one of the finest tracks on the album. From Ansell's throbbing double bass pedal drumming to Carter's lurching power chords, it's a track that smacks of grungey goodness with a healthy dose of anthemic pop-punk thrown in for good measure.
The tension in the verse of "Lost Kids" builds quickly, exploding in the chorous with Carter and Ansell singing "Let it all come undone / cut it down, down to none".
"Night Light" wanders into full on Smashing Pumpkins Ava Adore territory. It's a track rich with acoustic melodies interwoven with melancholy piano parts that really drive home the chorous line "It's the ghost you made of me…"
"Stop Kicking" and "Slip Into The Blue" are both tight, deceptively infectious tracks that Carter and Ansell play like hidden aces near the end of the album.
Their vocal interplay has never sounded sweeter than it does on In Time With Voices. Ansell in particular has taken on more of the vocal duties which, considering how intense his style of drumming is, might not have been the best call for their live performances, but I'll reserve judgement on that one until some kind benefactor and reader of this site sponsors a flight to the UK so I can watch them live.
Should You Give A Shit?
Are the Kennedys gun-shy? Of course you should give a shit! It's a crying shame how many people don't give a shit about this band.
My advice is buy all three of their albums so you can track just how much this band has blossomed on In Time To Voices and then let's have this conversation again.
In the meantime, here's "Slip Into The Blue" to get you in the mood.
Final verdict: 8/10
-ST