If there's anything that having an iPad and frequenting the app store almost daily has taught me, it's the value of the "Staff Favourites" section.
It's there that I discovered this radass music app called "Band Of The Day" that is free to download and is literally changing my life every time I use it.
The app is brilliant in its simplicity – it's like an advent calendar full of cool bands with a new one uploaded every day to sink your teeth into and trust me, these are not your run-of-the-mill bands everyone knows already. In the entire month of March there was one band I'd heard of.
Selecting a band brings up a menu of options where you can access reviews of their latest album, bios of the band, Q&As (sometimes), a list of all their albums and videos and a player that streams some of their tracks.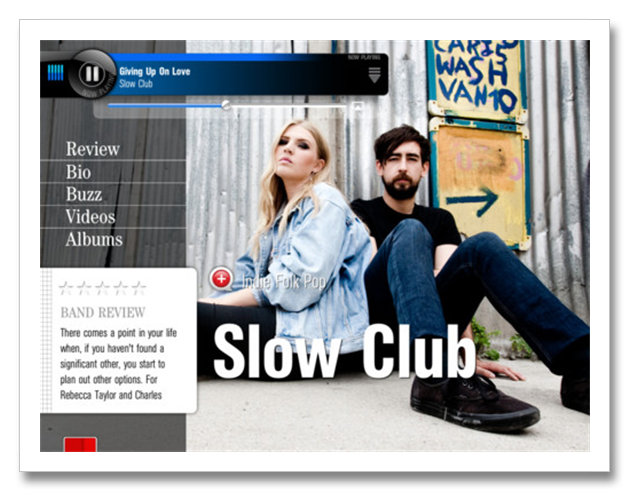 With some bands the player is limited to three or four tracks, but in some cases there are eight or more tracks to listen to which, considering it doesn't cost a cent, is pretty damn sweet.
The first time I fired the app up I lost myself for a good hour or so, trawling March's bands and finding some very cool shit.
The "Buzz" option in the menu is also really sick – it pulls all the recent Tweets mentioning the band you're listening to so you can see how may mentions they've been getting and what people are saying.
You can of course tweet and post to Facebook straight from the app as well to share new bands with your networks.
The only issue I've had using the app has to do with my ropey 3G connection which results in songs stopping while they buffer, but otherwise I literally cannot find fault with this killer app.
-ST