Yesterday evening, just before the Carte Blanche death-knoll sounded on SA TV's across the country, police were called to the scene of an apparent suicide in the Hillbrow area.
Disgruntled Beep Bank employee "Steve" was found hanging in his flat by his landlord who had received complaints of a "bad smell" coming from the apartment.
"The minute that smell hit me, I knew that Steve had offed himself," said Themba Sisolezi, Steve's neighbour. "Everyone hated the guy, including me. I'm so glad he's dead, everyone is."
Steve, who was appointed to the acquisition and retention branch of Beep Bank just over a year ago, was ostracised on a daily basis by every human he came into contact with because Beep Bank don't offer a banking app or free iPads.
"It was heart-breaking to watch him fall apart," said Steve's ex-wife, Miranda Riley, "day in and day out he was on the phone, begging people not to cancel their accounts with Beep Bank only to find that every person he called had left Beep Bank so they could get a free iPad.
"It took a huge toll on him as a person," continued Riley, "and eventually broke his spirit so completely that I no longer recognised him as the man I fell in love with. He started drinking heavily and smoking a lot of tik with homeless people because they don't have bank accounts or know what iPads are."
Shortly after news of his suicide was reported, social media networking site Twitter was abuzz with jubilant tweets expressing how much better life is going to be for South Africans without Steve.
"So awsum he's dead," tweeted Sxygrrrll7765_1, "evry time i herd his voice i vommed a bit in my mouth LOL :-O"
"steev sux!" read another tweet from Wozza76, "trying to sell me reatrded banking charges more like wanking charges! o_0"
A memorial service for him is planned under the 5th street bridge where his only friend, a homeless man who goes by the name "Papa Joe" will smoke a lightbulb and scatter Steve's ashes in the dumpster where he was known to sleep from time to time after a particularly hard day of being pelted with rocks.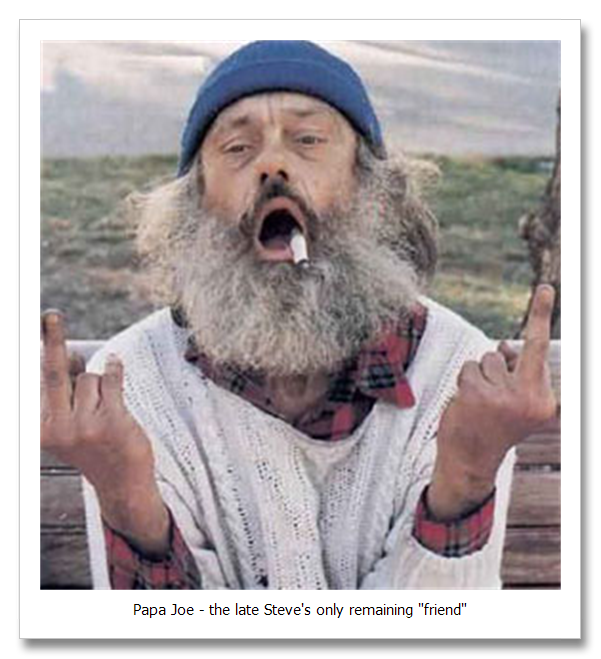 "I'll miss that guy," said Papa Joe in a statement to the press earlier today, "he always made he feel better about myself because of what a gigantic douche he was. It's not all bad though. Thanks to his drunken emotional outpourings I now know a lot of stuff about banking.
"I even have a bank account now!" continued Papa, "check out my sweet iPad!"
-ST