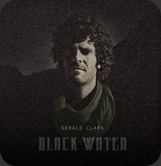 The Down Lizzo:
Remember near the end of last year when I posted that badass stop-motion video for the track "Black Water" by Gerald Clark and wrote about how badly I needed that album in my life?
Well my prayers were answered pretty much the next day and before I knew it I was knocking back some smoky Double Black and tearing it up to this gritty, gutsy, killer blues album.
Black Water is how the blues were made to be played. It's honest, unrepentant, wild and free and I loved every minute of it.