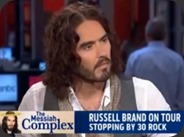 For a long time I thought Russell Brand was a gigantic wanker, BUT having watched the video I'm about to show you guys, it's not an opinion I'm very proud of anymore.
I formed this opinion after watching a DVD of one of his early stand-up comedy gigs which I found awkward and not very funny. Then he started dating Katy Perry and my dislike of him increased tenfold.
I liked him in Forgetting Sarah Marshall and Get Him To The Greek though, which was why I decided to take eight and a half minutes to watch him OWN the morning presenters of MSNBC in a recent interview and holy shit, it was worth every second.