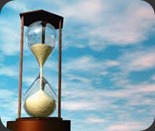 A lot can change in a month. Hell, a lot can change in an hour, a minute, a second.
Sometimes it's hard to gauge the extent of that change when you're in the moment. It's like we have this built in anti-panic mechanism that kicks into overdrive when things are getting crazy and allows us to honestly believe that everything is ok when all hell is breaking loose.
It was like that in theatre. They wheel you into this sterile space where your life is about to change forever, laughing and joking like you're going for a Sunday stroll and you play along because a Sunday stroll is a shitload less terrifying than what's about to happen.