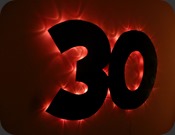 You guys might have noticed that I've been slacking again when it comes to posts – that's because my weekend was a bit of a wild one and I wasn't able to stockpile anything for the week like I usually do.
Friday I went to an awesome wedding at Suikerbossie where a lot of tequila was drunk and good times had by all and on Saturday I celebrated a pretty intense milestone because yeah. I'm thirty now.
My actual birthday was on Sunday but on Saturday I had a chilled braai with some friends, nothing too crazy because I'm a dad now so I couldn't really lose my shit completely with a two month old baby.