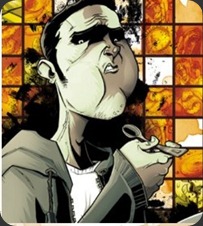 As I've mentioned in previous posts, I used to read a boatload more comic books and graphic novels back in varsity than I do now, but ever since attending Free Comic Book Day a few months back, I've gotten hooked again.
So once in awhile I'll be spitting these reviews out when I find a particularly sick graphic novel I think you'll dig and first on that list has to be Chew.
Written by John Layman and drawn and coloured by Rob Guillory, Chew has to be one of the funniest, most twisted and original graphic novels I've read in years.