Aficionados is a local online whisky store that sells a lot of well-priced and rare whiskies. I joined their mailing list recently when I bought a bottle of Laphroaig Quarter Cask from the site (very awesome whisky).
They sent an invite to attend a chocolate and whisky pairing at The Wild Fig so for the sake of Project Whisk(e)y I went to check it out.
I approached the evening with the highest level of professionalism and took detailed notes which, after my third whisky, rapidly started to degenerate into something closely resembling the ramblings of a village drunk.
The evening kicked off at about 6.30 and we tasted five different whiskies, not one of which I'd tasted before and some of which I'd never even heard of. I was more focussed on the whisky than the chocolate so you'll have to forgive my lack of chocolaty detail below.
I felt a bit of trepidation going to the tasting solo, but soon made friends with a group of young-looking people who kindly let me sit at their table so that I could steal all the flavour notes they were picking up in the different whiskies we were tasting and pretend that I'd thought them all up myself.
So with no further ado, here are the whiskies we tasted and the notes I wrote down about each one, verbatim:
Whisky No.1 – Balblair 2000 Vintage
"Balblair 2000 vintage, alone its kinda insipid. Very subtle sweeter notes, American white oak, very light in colour, slight alcohol burn dominating the flavours. With the choccie, a sharper taste, didn't really make the sweeter notes pop. Beginners might like this wizzo, personally I found it lacking in flavour. Sugary like white sugar."
The tasting notes say it all really. The Balblair didn't blow my hair back in any way.
The flavour notes I was picking up were so subtle, the alcohol burn almost overpowered them and even that was mild. Nice bottle though so yeah… it has one redeeming feature at least.
Moving on, the next whisky we tasted was: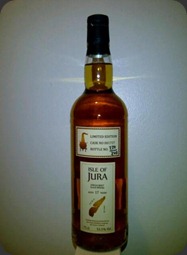 Whisky No.2 – Jura 17 Year Old
"Second one 17 year old Jura. Maritime influence, peat is different at the coast. Single barrel distilled in 1993, from bourbon to port pipe, extra matured because two different woods. Still single malt. Seven years in a port pipe.

Sweet cherry smell, nice maltiness, complex. Slight medicinal tones, 56% ABV, nice burn, not overpowering, more character than first one. Cherry chocolate brings cherry flavours to the fore, creates a much creamier finish.

Nice maltiness, darker colour. Bit of marzipan in the chocolate. Long cherry finish."
Which is the long way around of saying the Jura 17 Year Old was a much more characterful whisky than the Balblair. It's also pretty damn rare which is why I've had to use that crusty picture above, it's literally the only one I could find of the bottle after trawling Google Image Search for a good 20mins.
Also, the fact that this whisky was finished in port pipes gives it a nice, dark amber colour and delicious spiciness that made it a winner in my books.
Next up: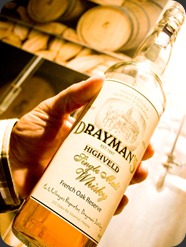 Whisky no. 3 – Drayman's Single Highveld Malt:
"There are only 3 SA whisky distilleries, Distel distillery in Wellington (3 Ships, Bain's) a distillery that makes Wild Reeds Whisky (African shaped bottle) and Draymans is the 3rd. Beer makers end up making whisky. Low wines is the first distillation.
Drayman's in matured in French oak. White oak vanilla flavours, American oak.
European oak rich fruity flavours. French oak quite spicy, not great for scotch. Rich dark chocolately flavours, digestive biscuit, almost eucalypsy notes, fresh spiciness, some richer fruit, mint? Surprisingly delicious. Cinnamon and orange chocolate enhances the spiciness."
This South African "Highveld Malt" was my favourite whisky of the evening.
Whisky is mainly matured in either American or Spanish / European oak casks with a very small amount being matured in French oak casks.
Drayman's is matured in French oak and wow, it tastes like no whisky I've ever encountered.
If you're looking for something that is guaranteed to throw you a massive curveball that you'll either love or hate, pick up a bottle of Drayman's Single Highveld Malt from the Aficionados site here for R455, in my humble opinion, it's worth every cent.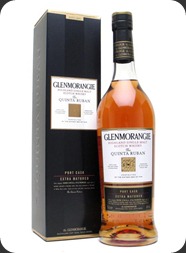 Whisky no.4 – Glenmorangie Quinta Ruban
"Glenmorangie quinta ruban. Process similar to Jura, bourbon cask for 10 years two years in a port pipe. Ruby is Ruban. Pinkish tinge from port, nose very subtle, lighter, sweeter notes almost no smoke or peat, coconut on the nose. 46% ABV. Tastes like, umm… umm… umm tastes like… WINNING!
more Snacks! YAY! wonder how many I can SMASH IN MY FACE BEFORE I BECOME THAT GUY…
Huh. As we can see from those highly detailed notes, by this stage I was starting to lose a bit of focus. Still though, the Glenmorangie Quinta Ruban was a great whisky, also finished in port pipes, hence its ruby colour.
This was many people's favourite whisky of the night, which made me want to stab them with a fork because DRAYMAN's WAS THE BEST DAMNIT!
Anyway, moving on, the last whisky was:
Whisky No.5 – Glendronach 15 year old Revival
"Glendeonach one third owned by a saffa. 15 year old. Light toffee on the nose. Sherry finish. 12, 15 and 18. 15 called revival.
Very common scotch style until 15 20 years ago, dried frutoness, actual taste is richly complex, lovely long finish, coffee notes, chocolate didn't pair so well with choccie, nice. I want to soak my loins in it.
Got more draymans single highveld malt unbelievablely new woody taste. Like fresh sap. Iys charming as fuck. Christ south Africans are badass. nkozzi sikhelelele awww yeeaahhhh"
Yep. Like I said, the ramblings of a village drunk. Good thing we stuck with 5 whiskies and called it a night.
And no, in case you were wandering, I did not drive myself home that night.
I did the smart thing and took a cab because 5 whiskies will push you over the limit, no doubt about that. Just ask my taxi driver about the rousing rendition of "Come On Eileen" I belted out all the way back to Vredehoek and he'll tell you straight.
So yeah, next time one of these tastings is going down, I'll be sure to let you crazy kids know and we can hold hands and go together.
Good times I tell ya, good times

-ST