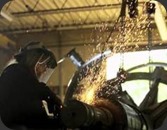 I mentioned a few weeks back that I'd enrolled on a 10 week long Creative Writing course run by Getsmarter in the hopes that it would light a fire under my ass to finish my first manuscript by August.
Good news is the course has definitely taught me a few tricks that will be seriously helpful over the next few months. Bad news is with all the course assignments, I have no time to actually write my manuscript.
Same goes for this blog, which is why I came up with the genius idea of posting some of my writing exercises on the site and in this way, killing two birds with one stone – SPLAT!