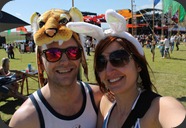 Ain't it funny babe? The way every time I write one of these I make all these promises of how stinking rich I'll be one day and how much I'll spoil you on our anniversary and then the next one rolls around and I'm still pretty much broke?
Thank Christ you're not with me for the money. It's always been a source of great happiness for me that you're not one of those girls.
The ones obsessed with material bullshit. Obsessed with shopping and girly pop music and puke-worthy rom coms and things that are pink.
It's always been a great source of happiness for me that above everything, you are real.