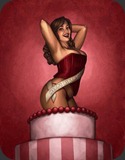 Exactly two years and one day ago I pushed this site out lovingly from the moist, slippery birth canals of my twisted mind.
Can you believe it's already been two years?! Christ, if I'd actually dedicated all this time to writing a novel like I'd originally planned and stuck to writing it as religiously as I blog on this site, I'd have a fucking masterpiece by now.
But, conversely, I never would have met all you, my happy little gang of imaginary internet friends so yeah… um… whoop whoop dee doo?