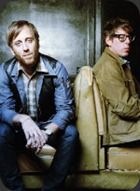 The Down Lizzo:
Two years ago you had no idea who they were, then Brothers dropped and their muddy, garage-blues slowly started creeping into your life.
So you got your mitts on the album and before you knew it, you were telling everyone that would listen about how much you love The Black Keys (you still haven't heard anything earlier than Attack & Release though).
And now you find yourself reading this to find out what your Tiger pal thinks of their new album, El Camino, even though you probably already own it.
Well, I fucking love it, and here's why.