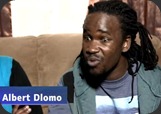 Being the slickest Tiger in the jungle, I get emails from time to time with insider information from the puppet-masters who run the interwebs.
One such email hit my inbox last night following the Tokoloshe video I posted on the site last week. Turns out the sceptics were right, the video is part of a sneaky marketing campaign.
It's genius in it's simplicity. The brand is called www.tivvit.com, it's an online portal to find properties to buy or rent when you wake up one day and realise yours is kak.
Using this concept the creatives came up with a whole buncha ads that I would like to invite you to watch with me. Wait right there, I'll get the popcorn…