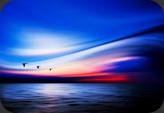 Guys, we've done it. We have escaped Monday at long last and are finally free to do whatever the hell we want ALL DAY!
That's right, it's Heritage Day here in the good ol' S of A, which means we can kick back, chill to the max and all braai the shit out of shit in an effort to celebrate what makes South Africans South African.
Ironically, I'll be spending most of today working. That's the double-edged sword that is public holidays – as awesome as they are, you lose a day of productivity which I can't afford right now. These images from Josh Adamski are making that reality a little easier to bear though.