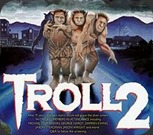 Regular readers of this blog probably know by now that I have a weird bent for things that "normal" people probably find unbearably crappy and difficult to sit through.
There's just something about B-grade that fascinates me. It's probably a knee-jerk reaction to the over-polished, super-slick, too-cool-for-school mass media world we live in.
There are only so many over-stylised, photoshopped depictions of "reality" I can handle before I start to get bored to tears. Show me something real fer chrissake! Show me something flawed, something fucked up, something truly terrible. It was this desire that lead me to find out about and subsequently watch the worst movie ever made: TROLL 2.