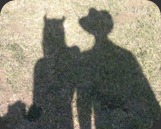 As I mentioned last week, thanks to the kind folks at Ladbrokes, J-Rab and I got to go to the J&B Met on Saturday and bet some money on the races and ended up having a killer time!
Sure, we went to the Met last year as well, but that was really just to swan around in the main marquee drinking champers, eating crayfish and mingling with all the ZAlebrities.
This time around we were there to BET and we had the upper hand from the get go because the kind folks from Ladbrokes gave us some scarily accurate odds and as a result, we actually won some money!