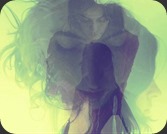 I can't escape this feeling that somewhere out there there is a band or a person writing and playing music right now that is so fucking good that if I could just find it, if I could just hear one song, it would stay with me for life.
It's a problem with me. I look out over the cityscape sometimes or I look at pictures of sleepy suburbs or big skyscrapers or even log cabins in the woods, totally isolated and termite-ridden.
I look at those pictures and I wonder if someone somewhere inside one of those buildings or houses or on one of those streets is playing a song that could change my life.