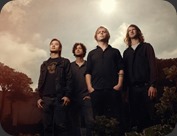 It's no secret that I think Taxi Violence is one of SA's most talented and badass bands currently playing, just read my review of their last album here and my write up of their Synergy 2011 performance here.
There's just something about this band that connects with my deep, dark, whisky-drinking soul y'know? The desert / southern rock / blues influence definitely has something to do with it, that shit really speaks to me.
So I was pretty stoked to find out that they're about to drop a new album in July called Soul Shake which you can bet your ass I'll be reviewing here on the site soon as I can get my filthy mitts on it.