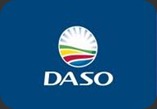 So I'm checking out the interwebs yesterday night and I come across this DA Student Organisation news article that has a picture of this DASO poster that okes are KAKKING theirselves about.
So I check out the poster and I can INSTANTLY SEE why okes are talking about this thing all over the interwebs.
It takes a flippin CLEVER OU to be able to see through all the other stuffs that can cloud a oke's mind when it comes to sensitive issues such as these ones, which is why, by just looking at the poster below for 3 seconds, I could check what the whole issue with it is about.