Jassis ma charnas, but did I watch a HELLUVA flippin' TIGHT rukby games on Saturday! It was just laaik that flippin' movie ROCKY 1 when that MASSIVE AND RIPPED oke does all the one-arm pushups and then MOERS the meat in the freezer, only this time the BUFF CHARNA was WOLFPACK RFC and the meat in the freezer was Durbanville 5.
It was a game full of surprises, the first one being the fact that the flippin Durbanville 5 team kept flippin' SCORING TRIES against the MONSTER OKES in the Wolfpack!
I could hardly believe my eyes and did at one stage think I'd klapped too many brandy and coke specials (R30 for two doubles and coke, are you FLIPPIN' SERIOUS?!), especially when we got to nearly the end of the game and the Durbanville 5 okes were leading 25 – 20.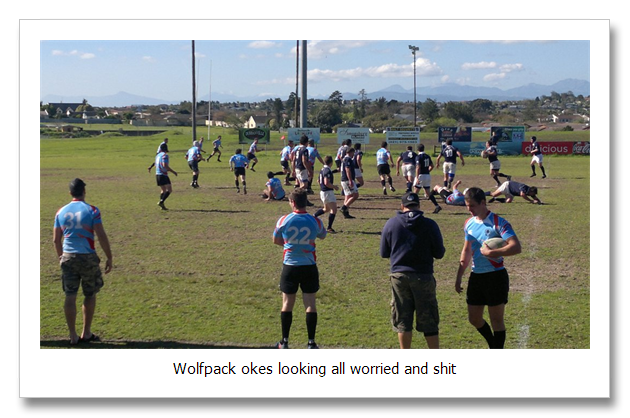 But you gotta say one thing about the BUFF CHARNAS in the Wolfpack RFC, not only are they FLIPPIN MASSIVE AND RIPPED, but flip ma boychay, they got a lotta heart and just like that movie with the metal oke from the future who comes back to the past and gets blown up and shot and run over with a truck and MOERED STUKKEND, when they decide they want to kill a oke, NOTHING can stop them.
In the last 5 MINUTES the Wolfpack RFC okes scored a try and converted themselves straight into victory. Okes couldn't believe it. The Durbanville 5 charnas looked BROKEN while the Wolfpack fans punched the air and made the Wolfpack howl.
Even I cried a bit. Mostly because the brandy special ended, but also because I was happy for the BUFF CHARNAS of the Wolfpack.
But lemme tell you – the flippin GOOD TIMES were only starting. After the game we rode the party bus for about two hours all around Cape Town while the Wolfpack okes had a DAK fines meeting.
Okes were fined for everything! Dropped the ball you CHOP! FINE! Didn't MOER a oke STUKKEND! FINE! Didn't obey the BUFFALO rule (flip boet, are you STUPID?!) FINE!
And the okes who did the DUMBEST SHIT got the SUPER FINE – BOOZE IN A SHOE!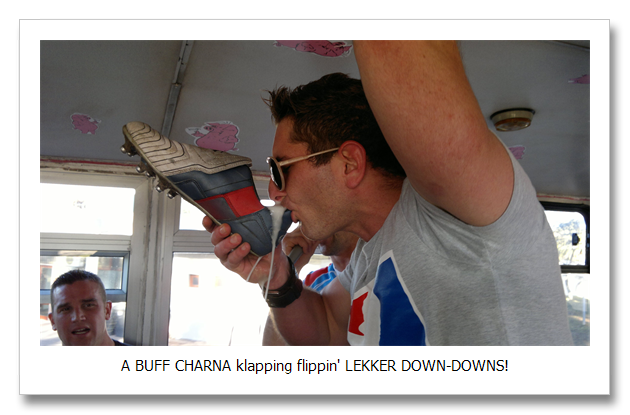 All in all, it was a flippin' EMOTIONAL day. There were pushups, BUFF CHARNAS, 15 cases of beer and even a blonde belter! But just the one, next time I expect there to be at least 10! What are we? Durbanville 5?
So with the end of the season coming up, the Wolfpack RFC boychies are looking BUFF as ever and it wouldn't surprise me if they win the entire LEAGUE and, like the metal oke from that movie, go back in time and MOER THEM ALL A SECOND TIME!
KLAP IT BOYCHIES!
-ST