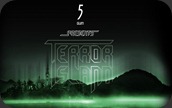 Anyone who was lucky enough to attend the last #5GumExperience when Two Door Cinema Club played at an old cement factory in Cape Town will know how flippin' epic these experiences are.
I mean, shit man! You can't buy tickets to the #5GumExperiences, you can only win them. THAT'S how exclusive these shindigs are, no lies.
So yeah, if you want tickets you got two options. Hit this link before midnight tonight and enter the official 5Gum Terror Island competition for tickets to watch two of the biggest names in electro music, A-Trak and Hudson Mohawke, live in CT. OR you could just enter the competition right here on this motherflippin' site!
That's right. I'm giving away a double ticket to catch these guys live when Terror Island hits Cape Town this Saturday. So listen close. Here's the dealy-o.
All you have to do is send me a pic via email (tellthetiger@gmail.com) or Twitter (@slicktiger with the hashtag #5GumExperience) of a pack of 5Gum that depicts Terror Island like the one below and the best one gets the tickets.
Entries for the competition close at 12 midnight tomorrow (Thursday 25 October) so you've got two days to nail this one and the #5GumExperience of a lifetime could be all yours.
To give you a taste of what it's gonna be like, here's Hudson Mohawke with "Thunder Bay".
Rockin. And here's A-Trak with Mark Foster and Kimbra (the girl that sings with Gotye on "Somebody That I Used To Know") with "Warrior", a decidedly more badass video that features two of my favourite things: Mexican-styled wrestlers moering each other and Mexican-styled wrestlers moering each other.
So there you have it folks. Send those pics asap and I'll announce the winner first thing on Friday morning.
KA-POW!
-ST