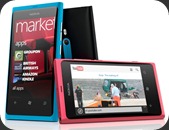 Friday will have been exactly two weeks since the Nokia Lumia 800 got dropped off for your Tiger pal to review so I've had some time to get to know my little cyan buddy more intimately.
Though I have encountered one or two frustrations over the last two weeks, they are far outweighed by the slickness of the Windows 7 OS and the great features the Lumia 800 is packing.
This week I'll be tackling Twitter and Facebook, having a look at some more of the nifty "live tiles", checking out the 8MP Carl Zeiss camera and reviewing the battery life.
The "Me" Live Tile