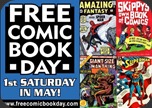 Once a year, comic book shops the world over unite to give away free comic books to the masses on the first Saturday in May, which is tomorrow bitches!
I checked Free Comic Book Day out last year and ended up dropping about R500 on graphic novels because they were going for 50% of what you'd normally pay for them in some cases.
It's totally worth checking out, not only for the discounted comic books and graphic novels, but also for the fan boys and girls who get ass dressed up for the occasion like they're at Comic Con or something.