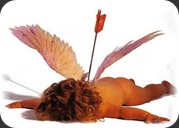 Do you guys remember Valentine's Day back in highschool? I do! And that shit cracks me up every time because I NEVER got any fucking roses, chocolates or cards, I was that kid.
No wait, I did get the one rose once from a girl in matric, but otherwise the whole thing was a gigantic waste of time for me. I went in with low expectations and was never disappointed because I am cursed.
Valentine's Day and I have never been friends. The best Valentine's Day I spent was at The Doors in Joburg where they released a gigantic net of red and white balloons that the crowd obliterated with Rammstein blasting in the background.