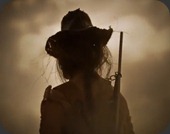 I mean shit, this guy had me at stop-animated ratty old action figures trying to murder the fuck out of one another in a dirty, gritty hell-hole, THEN the chorous kicked in.
It's foot-stompin' good times from start to finish with this track, the kind of song that makes you want to drive screaming into that black night, firing shotgun blasts out the window of your pickup.
What can I say? Both the song below ("Black Water") and the video speak to my dark, whisky-ravaged heart and get this, the guy's from Stellenbosch – how fucking cool is that?! I love what's happening in the SA music scene at the moment, it's alive and kickin' brother, hooo-wee!