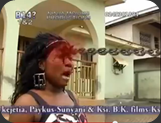 You guys might remember awhile back I posted a trailer for the Ghanian movie 2016, which was a mind-blowing combination of horrendous CGI, gratuitous violence and insanely bad acting.
Well, it turns out that the Ghanians have been at it again with B14 1 & 2. If the trailer is anything to go by, this is the same (badly) reheated Hollywood leftovers we've come to expect from our Ghanian buddies.
Only this time, they've thrown in a healthy dose of Mortal Kombat in the form of a character who looks like a cross between Neo and Scorpion (shout out to Civilian for sending this my way).