I changed my mind about this post. I was going to write it to our little girl, apologise to her about the way things turned out but really, she's just a tiny baby, exactly one year old today and blissfully oblivious of what's going on.
The person I really want to write to is you babe because I know you'll be hurting today and I don't want that. There will be no tears today, that's not what today is.
Today is the day we look back on the best year of our life together with nothing but big smiles and hazy, happy memories.
Sometimes I think way back to when I first started to fall for you, that year when I drifted down Grahamstown's drunken streets utterly lost, howling at the moon, boiling over with fury, hell-bent on tearing the world apart until I found truth, meaning, acceptance, love.
You know you're falling when the person you're falling for is all you think about from the moment you wake until the moment you go to sleep and even then, you can bet your ass you'll see them again in dreams.
It feels like you're going mad, it feels like this other person has stepped out of the physical world directly into your mind where they've proceeded to pour themselves a drink, kick their shoes off and make themselves at home.
I find you in there still, every day I live and breathe, only now you aren't a composite of dreams and reality, a mysterious half-imagined, mercurial creature. It's you, my closest friend, my most trusted companion, the mother of my child.
It's you the way you looked that night they kicked us out of Pop Art for kerfuffling, it's you the way you looked when we went road tripping so many summers ago, your feet dangling out the window, the wind ruffling your white summer skirt as you turned to look at me, your eyes sparkling with mischief.
It's you exactly a year ago today as they were wheeling you into theatre, your knuckles white as you took my hand in yours, your eyes wide, beautiful in their heart-wrenching vulnerability.
I've watched the change in you since you became a mother and marvelled at how the hell-cat I used to know has turned that energy into a fierce protectiveness over her cub and a willingness to do anything, sacrifice countless hours of sleep, sanity and personal well-being, for our little girl.
I've said it before but I'll say it again, you're a natural babe, the best Mom in the business. I've never met a Mom who is as calm under fire, as patient under the most trying of circumstances and as generous with her love as you are.
The Cub is lucky to have a lioness like you for a mother.
As for me, I'm going to be missing you guys like crazy today, make no mistake, but I'm not going to be sad. I'm not going to focus on any of that negative shit because I know from experience it will just tear me up and lead me down a dark and lonely road.
Instead I'll be thinking of the story of the two people who were madly in love and who decided to go on the adventure of a lifetime, who left with open hearts, said goodbye to their friends and family and set out for a better life for their little girl…
I'm not the lost boy I was, howling at the moon, boiling over with fury. Turns out all those things I was tearing the world apart to find – truth, meaning, acceptance, love – were right under my nose the entire time.
Thank you for making a man out of me, a fiancé, a father.
Today I want you to remember all the good times, and when you've finished reading this, I want you to take our daughter in your arms and I want you to give her the biggest hug and kiss in the world and tell her how much I love her.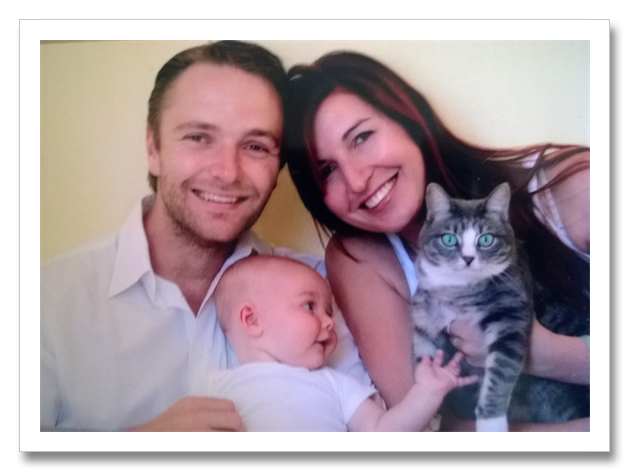 I love you babe, always have, always will 😉
Your man,
-ST