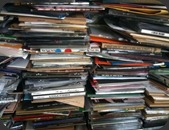 I tell ya, I've been putting this fucking post off for a good two weeks now while everyone else's top 50, 20, 10 and 5 lists have been flooding the Twittersphere.
And no, it's not because I wanted to suss their lists first to make sure mine's not crap, it's because there were so many great albums that landed this year I don't know where the fuck to start.
In the end, I followed the tried and tested method of sorting my iTunes library by year and scrolling down whilst mentally jogging through all the albums I listened to this year, yielding the following scientifically accurate results…
NUMBER 10 – Deerhoof (Deerhoof Vs Evil)

What quickly becomes apparent when listening to Deerhoof's 11th album is that for all its chaotic bursts of noise and bizarre musical twists and turns, this band has the kind of musical talent that borders on genius.
This album will confuse the shit out of you the first time you hear it. However, Japanese frontlady Satomi Matsuzaki's bubblegum-pop perfect vocal delivery and guitarist John Dieterich's ability to write effortlessly catchy guitar riffs will have you coming back for more.
If you like your music irreverent, unpredictable, catchy as hell and severely tripped out you won't be able to put this album down. Here's "Secret Mobilisation" to give you a taste:
NUMBER 9 – Foster The People (Torches)
Yes, yes, I know. How could anyone who considers himself a serious music critic endorse a band that produces such blatantly unapologetic indie pop?
I'll admit that Foster The People is definitely a guilty pleasure of mine, but y'know what?
Sometimes I just want to listen to catchy singalong tunes that don't send me spiralling into a vortex of existential angst and introspection, is that a crime?!
Torches is packed full of great hooks, clap-your-hands-and-dance-around carefree summer melodies and chorouses that bounce inside your head for days.
Here's the video for "Don't Stop (Colour On The Walls)" – you HAVE to watch this, it's brilliant!
NUMBER 8 – Cults
Continuing in the indie pop vein (don't worry, this list grows some big hairy balls later) the Cults' debut self-titled album also impressed.
This band borrows sounds from traditional 50s teen prom-pop, doo-wop and surf rock, laces them with a heavy dose of reverb and samples of cult leaders speaking to their followers and then wraps it all up in frontlady Madeline Follin's high-pitched cantopop style vocals.
Which is a very convoluted way of saying this band writes simple melodies, sick hooks and killer songs that are seriously easy to get into and carry just enough weight to not be completely dismissed as indie pop fluff.
Here's the video for "Abducted", the opening track on Cults. Oddly enough, it also features a lot of driving. Starting to pick up a trend here…
NUMBER 7 – Taxi Violence (Long Way From Home)
The only SA band to make it on the Tiger's list! Yeah, I need to sink my teeth into more local music…
Long Way From Home features re-written, acoustic versions of old favourites like "The Mess", "Devil 'n Pistol" and "The Turn" which sound like they've been taken apart and completely rebuilt from scratch. And of course, Taxi Violence threw in one or two new tracks written specifically for the album.
It's a refreshing change from your stereotypical acoustic album where most bands just swap electric guitars for acoustic ones and serve up warmed up leftovers thinly disguised as an album actually worth listening to.
Their acoustic rendition of "Heads and Tails" is particularly noteworthy, as is "Long Way From Home" with its upbeat, bluesy / rock flavour played with bright, jangling guitars and tambourines that reminded me of some of the earlier Supergrass albums.
To give you a taste of what I'm banging on about, here's the SICK video they shot for "Heads Or Tails", which recently won the Best Video Award at the 2011 Wirral International Film Festival.
NUMBER 6 – Seasick Steve (You Can't Teach An Old Dog New Tricks)
I met my buddy Seasick Steve when I was down in the dumps earlier this year and we became great buddies.
See, ol' Seasick knows how bad things can get, before he made it he used to busk in the Paris Metro, only finding fame in his late fifties.
This guy is the real deal, from his frazzled grey soup-catcher to his beaten up John Deere cap and dungarees, he is everything that is badass about old-school blues.
He has a voice like an old grizzly bear and can change it up from the low, lonely, slit-your-wrists ballad I'm about to play you to foot-stompin, redneck country and western tracks that bring words like "yeee-haw!" and "hootenanny!" to mind.
I just think he's fucking cool. I've got a soft spot for old veterans like my pal Seasick. He attributes his recent success to his cheap and weather-beaten guitar "The Trance Wonder" which he bought off a friend of his in Mississippi who later revealed to Seasick that it was haunted.
Check out this video of the ol' grizzly bear playing "Burnin' Up" at SXSW earlier this year and dig his outburst at 2:18. What a badass.
NUMBER 5 – Yuck
My favourite debut album of the year and irrefutable proof that, like a gigantic, spindly cockroach surviving a nuclear apocalypse, the 90s will never die.
This band packs all the distorted, wailing guitar fury of bands like Sonic Youth and Dinosaur Jr and the playful, foot-tapping basslines of the Pixies topped off with a fuzzy vocal tone Pavement would be proud of.
But that's not what made this album shine for me.
What made it shine lies in this band's seemingly effortless ability to write melodies that soar with breath-taking dexterity above the tracks that make up this self-titled debut.
One part fuzzy, wah-pedal driven slacker indie rock and one part slow-burning, melody-driven alt rock worthy of old school Smashing Pumpkins / REM, Yuck carries a powerful emotional gravitas that blazes a trail through lesser bands' attempts at redefining one of the defining decades in rock music history.
Simply put, this album is everything that was great about 90's garage / grunge low-fi reimagined in the 21st century.
Here's "Get Away" so you can hear for yourself what makes this band great:
NUMBER 4 – Arctic Monkeys (Suck It And See)

Arctic Monkeys made a name for themselves by perfecting the art of writing gigantic, energetic hooks and hammering them home effortlessly a talent that the band exploited extensively in their first two albums.
Then came Humbug, one of the first albums I ever reviewed on this site and with it, a complete departure from the sound they had carved out for themselves in Whatever People Say I Am, That's What I'm Not and Favourite Worst Nightmare.
They enlisted Josh Homme from Queens Of The Stone Age to produce Humbug and with his help their sound changed almost completely from infectious indie to dark, moody desert rock in a move that showed there was so much more to this band than any of us could have guessed.
Suck It And See continues in the desert rock vein this band carved out with Homme, but this time around, the band has moulded that sound instead of copy / pasted it and as a result, sound a lot more comfortable than they did on Humbug, as phenomenal as that album was.
Killer tracks like "All My Own Stunts" with its cowboy twang and insidious bassline and "Don't Sit Down Cause I've Moved Your Chair", the most powerful desert rock anthem on the album, are balanced out by the caustic wit and beautiful melodies of tracks like "Reckless Serenade" and 'The Hellcat Spangled Shalalala".
It has a lot of meat to it, plenty to sink your teeth into and it gets better with every listen.
Here's "Don't Sit Down Cause I've Moved Your Chair", one of the most tripped out videos I've seen this year.
NUMBER 3 – Foo Fighters (Wasting Light)
The album that's been KILLING everyone's top album lists this year finds a comfortable spot at number three on the Tiger's list because Dave Grohl is a total fucking badass and Wasting Light has to be one of the best albums the Foos have put out since my personal favourite One By One.
This time around the band threw all the modern new-fandangled methods of recording out the window and went 100% old school.
The band literally set up a studio in Dave Grohl's garage and did Wasting Light on brown analogue tape that they then cut together by hand using fucking razorblades for god's sake!
The result is an album of raw, aggressive, skull-fuckingly powerful rock music that pulls no punches and takes no prisoners.
"Bridge Burning" will make you thrash around the room like an idiot savant who just hit a bong and downed a pint of rubbing alcohol, "Rope" has the catchiest, most badass Foos chorous riff since "Low" and "White Limo" is sheer, hedonistic rock music at it's most awesome.
Just watch this fucking video. It stars Lemmy from Motörhead for god's sake! How fucking badasss is that?!
NUMBER 2 – The Black Keys (El Camino)
Narrowly missing the top spot on this year's list are the current reigning champions of the American 70's blues / rock revivalist movement, The Black Keys with their 7th studio album El Camino.
Unlike it's predecessor Brothers, El Camino moves at a blistering pace – no slow-burners on this foot-stompingly infectious, monster hook-laden album, no sir. This time around the Keys have dialled things up to a whole other level and the results are nothing short of sublime.
From the rusty guitar riffs and insanely catchy chorous of "Lonely Boy" to the righteous, sleazy grooves of "Sister" and the almost Zepplinesque prog rock ballad that is "Little Black Submarines", the Keys pull no punches in this noteworthy follow up to Brothers.
And don't even get me started on "Gold On The Ceiling", which emerges like a mutated Thin Lizzy track bursting at the seams with hand-clap percussion, skuzzy organs and a pre-chorous that sounds like it was written specifically for strip club scenes in Robert Rodriguez films.
So why not list this as my top album of 2011? As I stated in my original review, El Camino's only downfall is the fat that, at 38 mins, it's a little on the lean side in comparison to Brothers, which is basically the only thing I can fault on this album.
There just isn't enough of it.
Still though, it's a sick, sick, sick record – here's "Lonely Boy" to prove that fact.
NUMBER 1 – The Kills (Blood Pressures)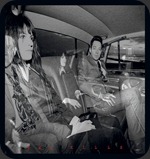 Again, I refer to my original review of this, my favourite fucking album of 2011, because it perfectly captures what I think of this album:
When I stumbled on The Kills latest album Blood Pressures, I got one minute into the first track and started grinning from ear to ear.
Some of this had to do with the dark and dangerous sound of guitarist Jamie Hince's Hofner played in all it's bone-rattling glory. This man has perfected a grimey, thick-as-tar tone that had me hooked from the get go.
But what really mind-fucked me was how sinister and cool frontwoman Alison Mosshart's vocals sounded – like butter wouldn't melt on her tongue, like she was everything sexy and dangerous in this world, like she could kill you with a look or break you with a smile.
The Kills is her band, her little broody-beautiful world that she shares with guitarist Jamie Hince and there's something about the fuzz and the mud and the malevolence and the majesty of it all that haunted me and continues to haunt me with every listen.
"You Don't Own The Road" saunters like a drunk cowboy waving his six shooter with the safety off, "DNA" stalks purposefully through the woods at dusk, picking its way through an undergrowth of drumsticks clattering against drumsticks whilst wading through a quagmire of swampy basslines.
"Baby Says" has the melancholy of a Cowboy Junkies track, a lilting melody to keep you company in the hollow hours before sunrise, a song that echoes back to better times.
But "Future Starts Slow" is still my favourite. Stark, defiant, sexy, it has a drum track that plays like a striptease and one of the simplest, most powerful riffs I've heard in a good long while.
I got a dark streak a mile wide that this album really speaks to but that doesn't mean you'll love it anywhere near as much as I do.
If nothing else, it's a great example of how simple, stylised riffs (played with truckloads of badass fuzzy effects) layered with amazingly complex drums and sultry, provocative vocals can seduce you to the point of infatuation.
If you want to know what the music playing in the jungles of my Tiger-mind sounds like, get your hands on this album and if you're anything like me, pretty soon it'll be playing through the jungles of your mind too.
Here's "Satellite" to sink your fangs into.
That about wraps it up for my top 10 albums of 2011, a post that's been THREE DAYS in the making, can you fucking believe it!?
So yeah, any comments would be appreciated – what albums rocked your guys' world in 2011?
-ST