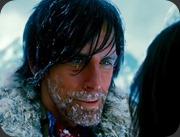 Silver Linings Playbook was a cool movie. Especially the part where Bradley Cooper's character Patrick throws Hemmingway's A Farewell To Arms out his bedroom window because he hates the ending.
Impulsive shit like that is cool. Turns out the director David O. Russell has already made his next one American Hustle, staring Christian Bale, Bradley Cooper, Amy Adams, Jeremy Renner and Jennifer Lawrence.
And if that trailer doesn't excite you, I'm posting another for the new Ben Stiller movie that he directed and stars in called The Secret Life Of Walter Mitty that I also think looks pretty sick.
But here's American Hustle first:
And here's The Secret Life Of Walter Mitty:
Very cool trailer. That song that plays throughout is "Dirty Paws" by Of Monsters And Men. I'd buy that album right now if I were you. It's called My Head Is An Animal.
Ok. Back to work.
-ST