Back in December, J-Rab and I decided to try to go to the beach as much as humanly possible whenever the weather was calm and the skies were blue.
We're both summer people, we love going to the beach with an umbrella and a good book, soaking up the sun for hours on end and when we're feeling brave, bolting into the sea, diving under the waves and feeling the icy water hit us with defibrillator force.
The day it all changed was exactly like that. One minute we were totally care-free, dozing in the sun on Clifton 2nd beach, listening to the sound of people around us playing beach bat and ball while waves crashed on the shore and children screamed and laughed as their sandcastles came crashing down.
The next minute J-Rab was crashing down, sliding down the bedroom wall, her hands covering her mouth in shock as she said "Ohmygodohmygodohmygod" over and over and over again.
It only took me a second to realise what had happened and another to join J-Rab in her slug-like descent of the bedroom wall while my heart pounded like a Slipknot drum-solo and the bottom of my stomach dropped fifty feet.
"Oh Christ," I said.
If you'd told us two hours before that this is how our day was going to end, both of us would have burst out laughing.
As it was, I was already half-way out the door, hard drive in hand and en route to Barbarian's house to get the final episodes of the last season of Survivor when J-Rab called me frantically from the bedroom.
That was our plan for the night – make some supper, watch Survivor, curl up and drift off to sleep to the quiet hum of traffic on De Waal Drive.
But life, a sugar packet once told me, is what happens when you're making other plans.
And life, as it turned out on that fateful day back in December, is exactly what had happened.
And no, it wasn't like the movies, we didn't jump up and down and scream like crazy people as the realisation washed over us. On the contrary, we remained slumped against the bedroom wall, mostly in silence, our thoughts racing as we tried to comprehend what had just happened.
I was the first one to start coming to my senses. I got up, poured myself a whisky and took this picture.
I think it aptly sums up exactly how I was feeling at that point:
Now it's two months later and I'm writing this with a huge smile on my face because that overwhelming feeling of absolute soul-crushing terror has disappeared and in it's place there is only joy and a sense of almost uncontainable excitement at what the future holds.
We went for the big scan yesterday, the one where they check for any defects that could indicate that something is wrong, but nothing was wrong, everything was perfect and healthy and strong.
I held J-Rab's hand while my face lit up with this big, goofy grin from ear to ear as I stared in total bewilderment at what we today found out was our 13-week old daughter.
That's right Party People.
Your Tiger Pal is gonna be a dad.
World, meet the heir to the throne.
We don't have a name for her yet, but somehow SlickTigress seems fitting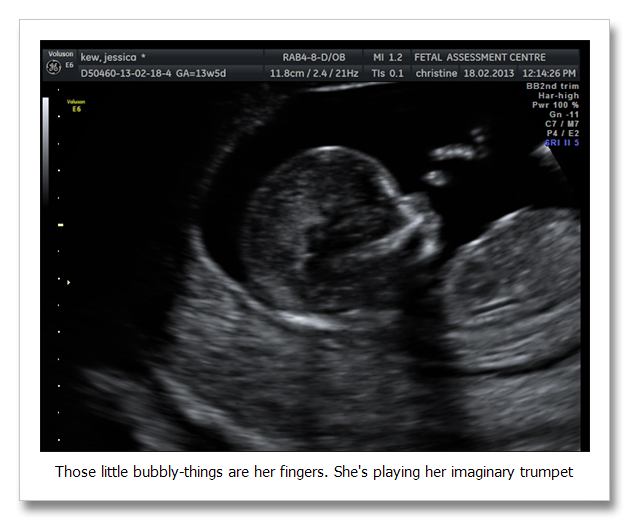 The times they are a changin' folks.
And I have never felt more full of hope and wonder for what the future will bring.
-ST