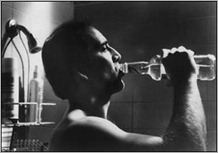 In some movies, Nicolas Cage is nothing short of mesmerising. He has an amazing ability to make you sympathise with his character whether he's playing twin brothers who are total opposites or a weatherman in the midst of a mid-life crisis, there's no denying that when he's good, he's fucking incredible.
But when he's bad, hoo-wee, he's fucking terrible. Anyone see Ghostrider? How about Windtalkers? Yeah, I rest my case.
And yet, people flock to see his movies, no matter how godawful they may or may not be because why?
Because MY GOD! The man knows how to completely lose his shit, as you'll see in the following 4 minute sequence of Cage at his most shit-your-pants crazy that Civilian sent me yesterday.