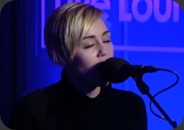 With ol' Miley paying so much attention to developing her "aesthetic" it's pretty easy to forget the fact that behind all the sticky-outy tongue action and attention-gabbing twerking, the girl can sing.
Well, sometimes… I stumbled on a video of her covering Outkast's "Hey Ya" and decided to dig a little deeper for more covers she's done as I remember seeing something about her covering Arctic Monkeys recently.
The result was equal parts mesmerising and horrifying. The mesmerising part is how many different tones she can sing in. The horrifying part is how she chooses to use them and the fact that she once tried to cover Nirvana.