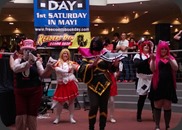 I've become a Free Comic Book Day regular over the past three years. It takes place on the first Saturday of May at Reader's Den at Stadium On Main and holy shit it's amazing.
You get different levels of comic book geeks. It probably starts with guys like me who've read a bit of this and that, like the medium and go out of curiosity and you get the types you're about to see in this post.
Free Comic Book Day happens at comic book stores all over the world and is a way to create awareness around comic books and most importantly get people reading them, which I think is a worthy cause.