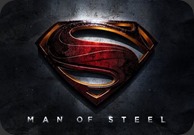 My good friends at Nokia surprised the hell out of me yesterday by swinging two tickets to the Man Of Steel premier my way so I could get a sneak peek at one of the most talked about movies this year.
Man Of Steel is directed by Zack Snyder (300 and Watchmen), produced by Christopher Nolan (director of the Dark Knight trilogy) and written by David S Goyer (writer of the Dark Knight Trilogy).
Add the insane trailers that have had the internet buzzing over the past few months and the movie looked like it had everything going for it, but did it stack up to the hype?