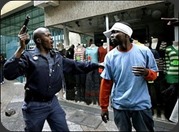 Following the overwhelmingly positive response I got from everyone for yesterday's post I have now started in earnest to write my first novel by sketching it out according to the classic three act structure.
What has very quickly become apparent though is that for me to be able to tell the story I want to tell, I'll need to conduct a number of interviews with the Po-Po.
So this is me asking you guys if anyone out there, anyone at all, knows anyone working in the SAP in Cape Town who wouldn't mind letting me pick their brain for an hour or so to gather some info for the novel I'm writing.