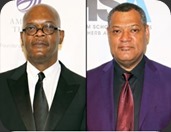 This is an important lesson in doing your fucking research boys and girls, and it's an important one to remember if you hang out in the kind of circles I do where running into A-list celebs is a daily occurrence.
Whatever happens, DO NOT CONFUSE SAMUEL L WITH LAURENCE FISHBURNE. And if you do, you'd better make damn sure it isn't on live TV because holy shit, my man Samuel will tear you a new one.
And rightly so. I mean this is Samuel L we are talking about here, a guy who has become notorious for playing slick-talking badass black characters for over 20 fucking years.