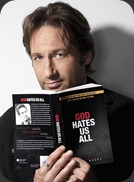 There was a time when Californication was definitely in my top 3 series because seriously, what wasn't there to like about it?
Hank Moody was a really compelling character. A charming rogue who, though he slept with hundreds of women, only ever loved one (Karen) and spent the whole of the first season trying to win her back.
However, the plot twist that really made the series compelling happened in the first episode when Hank sleeps with a woman (Mia) who he later finds out is not only 16 years old, but is also the daughter of the man Karen is dating.