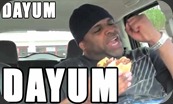 I know I say it on a weekly basis but I fucking love the internet. I honestly don't think I could live without it – life would be too boring to handle.
The great thing about it is just when you think it couldn't possibly get any funnier, someone steps up to the plate and smacks a piece of fall-off-your-chair-laughing content right out the park.
My favourite internet memes at the moment are auto-tuned African-Americans from the projects breaking it down in soulful R&B remixes of legit news interviews. As far as I know, Antoine Dodson was the first, followed by Sweet Brown.