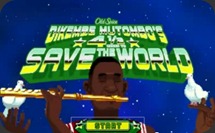 Old Spice, hahahahaha! I mean, your GRANDAD used to wear Old Spice right? Christ, he used to practically BATH in that stuff, it was insane.
Much like Bell's Extra Special Old Scotch Whisky, the Old Spice was pretty much doomed to failure because it's target audience was getting very old and shuffling off this mortal coil.
Then they relaunched the brand with some of the fucking weirdest advertising known to man and hey presto! The brand became cool again. In their latest escapade, they have teamed up with former basketball player Dikembe Mutombo and made the following epic piece of work time-wastery.
Check it: