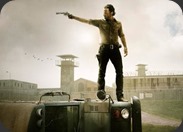 I came across this pretty cool "VFX Reel" from Stargate Films following the season finale of Walking Dead Season 3 and was initially just going to post this and carry on with my life.
But then I got to thinking about the season finale of S3 and very quickly realised that, on reflection, the season finale was a total let down in almost every conceivable way [SPOILERS TO FOLLOW].
The end of S1 was decent – Centre For Disease Control explodes, Rick finds out some secret he won't share with everyone, the gang drives off into an uncertain future, there was enough there to make me want to keep watching.