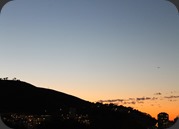 I've been away a long time, probably the longest since I started this site nearly five years ago. I disappeared without explanation, turned to smoke and left the empty shell of my site floating out there in the ether.
Work was partly to blame – the load got so intense that some nights I just burned on through to the next day, eyes like sandpaper, heart hammering, stuck in a perpetual coffee-comedown nightmare.
There was stress. Enough that I lost 6kgs. Mistakes were made. Sleep deprivation fools you into thinking you're on top of things when in actual fact, you're continually overlooking the obvious.