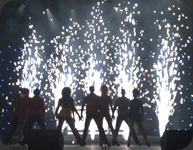 You get jaded pretty quickly as a blogger – PR companies contact you to invite you to one launch event after the next, all of them promising events that will CHANGE YOUR LIFE FOREVER!
Fast forward to when you get there and you find a bunch of completely disinterested journos scratching their bums while they wait for the powerpoint presentation they know is going to follow with a look of mortal terror in their eyes.
You bolt as soon as it's over and vow never, EVER again. Then you get the other kind of launch event, the kind that is awesome from start to finish like the Nokia Lumia launch I hit up last night.